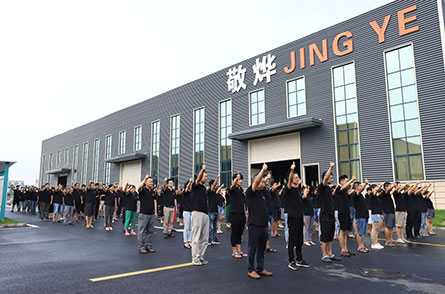 Founded in 2006, Anhui Province Jing Ye Protection Technology Co., Ltd. is a company which specializes in the production of safety shoes and has rich experiences in manufacturing and exporting all kinds of safety shoes. Currently, the company has 3 shoes production lines and it has an annual output of 2.5 million pairs of shoes.
The company has achieved the certification of ISO9001:2015 quality management system, and also has CE and BSCI certification. With expanded production scale, superb technologies, excellent product quality and consistent corporate reputation, the company successfully sells its products to South America, Europe, the Middle East, Southeast Asia, Japan, South Korea and Africa in the past few years, and wins solid customer trust and support around the world. Inspired by the corporate philosophy of "Quality First, Reputation First", Jing Ye Protection Technology Co., Ltd has constantly brought forth new product designs, improved its product quality and strongly committed to being "people-oriented and keeping with the times". The company has already established a modern enterprise system integrating design, production, marketing, detection and management.
Faced with the opportunities and the challenges of globalization today, Jing Ye Protection Technology Co.,. will keep the enterprise spirit, pool the wisdoms of all its employees and work with its customers to build a win-win future for the company and its customers around the world.